Doula; Derived from the greek word Doule - " a woman who serves"
There seems to be culture of disconnect for mothers between their beautiful baby bump and their beautiful baby. Labour is a huge part of the process in fact a crucial part for those who get to journey through labour to birthing their babies. still for those who deliver their babies through other forms of delivery there still sometimes is that disconnect. Im a strong believer that the way a mother labours/delivers their children has some effect on how they parent. A woman empowered is a strong woman.
Powered by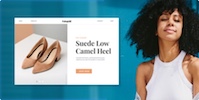 Create your own unique website with customizable templates.